THE LOS ANGELES WOMEN'S THEATRE FESTIVAL
in association with
THE FREMONT CENTRE THEATRE
is proud to present
The 2nd ANNUAL EMPOWERMENT DAY
Saturday, August 23, 2014
WHAT:

2nd
Annual EMPOWERMENT DAY.
A full day of workshops and panels designed to empower and enhance the careers of solo performers in particular, and an event full of information of benefit to all performers.
WHO: Presented by Los Angeles Women's Theatre Festival (LAWTF) in association with the Fremont Centre Theatre (FCT).
WHERE:
Fremont Centre Theatre, 1000 Fremont Ave. (at El Centro),
South Pasadena, CA 91030
. Ample free parking behind theatre.
WHEN:
Saturday, August 23, 2014

. From

9:00 a.m. - 5:30 p.m.
REGISTRATION:
Early registration is $75.00 for the general public and $50.00 for students (school ID must be present for entry) which includes an all-day pass.
The EARLY BIRD registration fee deadline is

July 31st

and will be $95.00 for all thereafter.
From left to right: Karen A. Clark (The Women), Estela Garcia (Remedios Varo: La Alquimista), and Karen Bankhead (Etta Mae Mumphries: And the Rest is History)


This event is a day full of career training from industry professionals, designed to give a boost to solo performers, but will also be of value to anyone contemplating theatrical production in Los Angeles or who wish to tour. Attendees will have a choice among seven workshops and panels.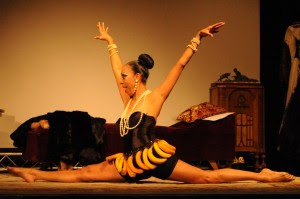 From left to right: Sloan Robinson (BANANAS! A Day In The Life of Josephine Baker) and Tia Matza (Grief and Grace)
Founded in 1993 by
Adilah Barnes
and
Miriam Reed
, LAWTF holds the distinction of being the oldest Annual Solo Festival in Los Angeles celebrating powerful women performers. LAWTF is a critically-acclaimed international festival which has produced close to 500 extraordinary solo artists from around the globe. These multicultural and multi-disciplined artists represent such diverse disciplines as theatre, dance, storytelling, performance art, performance poetry, spoken word, mime, aerialism, music, song, and stand-up comedy.
All in all, this is the most information you will find about the production of solo performance at one time in one place. Come out, Support and Enjoy!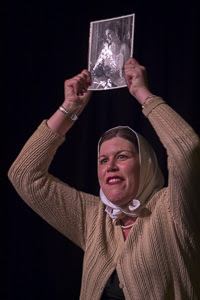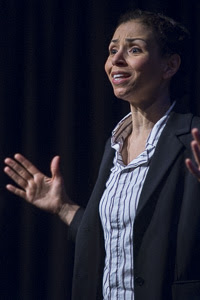 From left to right: Jennifer S. Jones (Appearance of Life), Dacyl Acevedo (Will Work For) and Lindsay Halladay (WASP)
We hope to see you there!